U-Trak 3D Wrist Tracker (UT-WT Red)
$24.99
Buy 2, save even more and shipping is free! Go here
Also available with a BLUE band here
Also available with a GREEN band here
THE SIMPLE TO USE ACTIVITY TRACKER – AND YOU DON'T NEED A PHONE.
Our daily activity tracker wrist pedometer doesn't use an app or track your location. A simple finger tap scrolls through your steps, distance walked, exercise time, and calories burned. Plus it's a clock too. Advanced motion sensor for accurate step counts. Adjustable band fits all wrist sizes. And it's waterproof up to 3 feet.
Slim comfortable silicone wrist band design. Aluminum back plate. Several band colors now available. BONUS: Includes extra set of button batteries.
• This item SHIPS FREE!
• In stock and available today
• Free set-up with your custom stride and weight
• FREE phone support
• Bulk discounts available – contact us for a quote here
Get a quote on quantites
SKU:

UT-WT Red
Categories: No Phone Needed Wrist Trackers, Pedometers with Motion Sensors, Senior Pedometers, Today's Deals
Tags: 3D Sensor, activity tracker, clock, memory, multifunction, quality, Step Counter, walking program, water resistance, waterproof, wrist
Product Video
"I like how easy it is to set-up and use. All I need to do is tap the screen to see the different modes."
Related Products
Sale!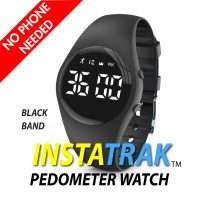 InstaTrak Pedometer Watch (ITP-100 Black)
Also available with a MINT GREEN band here
Also available with a PINK band here
Also available with a WHITE band here
CHECK YOUR DAILY STEPS ON YOUR WRIST, NOT YOUR PHONE.
InstaTrak is an easy-to-use pedometer watch that lets you check your progress in real time as you walk. Just put it on your wrist and go. Accurately measures your steps, plus it's a handy watch, too. Also measures distance walked and calories burned. If your goal is to count your steps and have a watch to tell the time, this is the model for you. The display resets daily at midnight so you're ready to go in the morning.
ECO FRIENDLY. The InstaTrak is rechargeable again and again so you never change a battery. This model recharges using your existing phone charger, or your computer's USB port. Can also be recharged using our A/C wall adapter available here. One size fits all adjustable classic buckle band. Waterproof and hypoallergenic.
• This item SHIPS FREE!
• In stock and available today
• FREE set-up with your custom stride and weight
• FREE phone support
• Bulk discounts available – contact us for a quote here
$

39.99
Add to cart