MOTION SENSOR PEDOMETERS & TRACKERS 
These models all use 3D motion sensing technology for greater accuracy and durability. A wide variety of models including wrist, hip, and pocket models. Whether you're just counting steps or keeping continuous track of your activity you'll find the right model here. Select any image for more info.
ALL ITEMS IN STOCK
FREE SHIPPING on orders $25 and up
HELP IS HERE!
Have a question? Prefer to order by phone?
Friendly, knowledgeable customer service is
ready to help you. Call 218-945-3003.
Sale!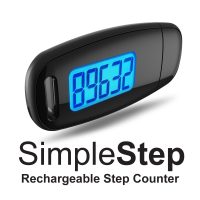 SimpleStep 3D Recharge Step Counter (SSR-100 Black)
WHEN YOU NEED TO COUNT ONLY YOUR STEPS, THIS IS SIMPLY THE BEST PEDOMETER ON THE MARKET. (BUT DON'T TAKE OUR WORD FOR IT.)
Take the word of thousands of walkers who have evaluated the SimpleStep Rechargeable Step Counter in numerous research studies focused on walking and weight maintenance. Not only is it a highly accurate step counter, the SimpleStep is designed to be accurate for a wider range of walking styles, including seniors who tend to walk more slowly. Only the SimpleStep can be worn 3 ways: On the hip with a heavy duty detachable clip (included); Wear it around the neck on a lanyard (included); or carry it in a pocket. Each walker can choose her/his preference.
Unlike other step counters which require a regular battery change, the SimpleStep is rechargeable and eco friendly. This model recharges using your existing phone charger, or your computer's USB port. A single charge lasts up to 3 months and the battery can last up to 75 years. Never change another battery! Can also be recharged using our A/C wall adapter available here.
• This item SHIPS FREE!
• In stock and available today
• FREE phone support
• Bulk discounts available – contact us for a quote here
$

37.99
Select Image - Learn More