PEDOMETER ACCESSORIES
Select any image for more info.
HELP IS HERE!
Have a question? Prefer to order by phone?
Friendly, knowledgeable customer service is
ready to help you. Call 218-945-3003.

S A L E P R I C E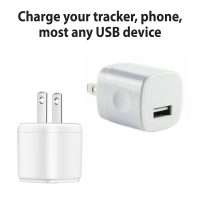 USB Wall Charger A/C Adapter (ACWA)
THE EASY WAY TO CHARGE ALL USB ACTIVITY TRACKERS AND PEDOMETERS.
USB adapter plugs into any wall outlet and lets you charge any Pedometer Express USB enabled activity tracker, pedometer, as well as most other USB equipped products. Great for recharging your mobile phone, too! White case.
• This item SHIPS FREE with $25 min. purchase
• Order today, ships today
$

11.99
Select Image - Learn More