ACTIVITY TRACKERS & FITNESS WATCHES
Our full featured activity trackers are just as accurate as FitBits, at a fraction of the cost. Take charge of your health with a personal wellness program on your wrist. Great for individuals, as well as group walking and wellness programs. These models download data to a phone app. Apps are free and do not require a subscription. Bulk discounts available. Select any image for more info.
ALL ITEMS IN STOCK
FREE SHIPPING on orders $25 and up
HELP IS HERE!
Have a question? Prefer to order by phone?
Friendly, knowledgeable customer service is
ready to help you. Call 218-945-3003.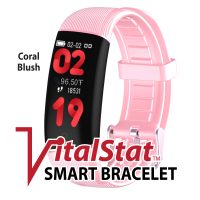 VitalStat Smart Bracelet (VSB-300 Coral Blush)
Also available in a BLACK ONYX band here
Also available in a BLUE INDIGO band here
FULL FEATURE TRACKER WITH BODY TEMPERATURE CHECK AND UP TO 7 DAYS BETWEEN CHARGES.
The VitalStat Smart Bracelet lets you check your temperature with a tap, along with heart rate, blood pressure, plood oxygen levels, and more. Advanced gravity acceleration sensor, clean graphic interface with 1″ display counts steps, calories, distance walked and time exercising. The free app is easy to use. No subscriptions or monthly fees required.
Has sleep monitor, message alerts can even remind you to take meds or an upcoming appointment. Charge using any USB port. USB A/C wall adapter available. See adapter here. Several band colors available.
• This item SHIPS FREE with $25 min. purchase
• Comes pre-charged and ready to use
• Order today, ships today
• FREE phone support
$

42.00
Add to cart