ACTIVITY TRACKERS & FITNESS WATCHES
Our full featured activity trackers are just as accurate as FitBits, at a fraction of the cost. Take charge of your health with a personal wellness program on your wrist. Great for individuals, as well as group walking and wellness programs. These models download data to a phone app. Apps are free and do not require a subscription. Bulk discounts available. Select any image for more info.
ALL ITEMS IN STOCK
FREE SHIPPING on orders $25 and up
HELP IS HERE!
Have a question? Prefer to order by phone?
Friendly, knowledgeable customer service is
ready to help you. Call 218-945-3003.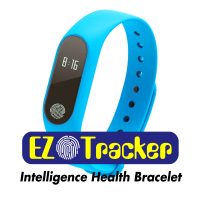 EZ Tracker Intelligence Health Bracelet (EZT-100 Blue)
THE SLIM LIGHTWEIGHT EASY TO USE TRACKER.
The EZTracker has an understated display with monochromatic blue digits on a black backround. Perfect for those who don't want a flashy colorful display. Keeps track of steps, distance in miles, estimated calories burned, plus a clock display.
The EZ Tracker is lightweight, and the comfortable silicone band is hypoallergenic and metal free, perfect for sensitive skin. Charges in 2 hours and lasts 4-5 days between charges with the included USB charger cradle. USB A/C wall adapter available. See adapter here. Band color: Blue. The free app is easy to use. No subscriptions or monthly fees required. Pre-charged for immediate use.
• This item SHIPS FREE with $25 min. purchase
• Comes pre-charged and ready to use
• Order today, ships today
• FREE phone support
$

26.00
Add to cart